Portfolio - Brochure Writing

Teresa Cheong - Professional
Singapore Copywriter, Business Writer

Brochure writing is a skill. An effective brochure is more than a striking logo or glossy packaging. It should communicate benefits and information clearly in plain English, but in a clear persuasive manner.
Brochure Writing Samples:


Brochure Copywriting - health equipment
Client: Ad Agency
Project: Brochure Copywriting - health equipment products
Client requested copywriting for three product brochures to launch a new range of bio-energy health equipment machines. The challenge was to convey tons of technical jargon and scientific findings into clear, plain English.

Read extracts from brochure:
Headline: De-Stress & See Results In Double Quick Time
Body: Hydro-Fit works like a dry waterbed. Simply sit or lie fully clothed on the soft mat. Close your eyes and allow waves of warm, pressurised jets of water to gently rock and massage your body underneath the protective, waterproof mat. The water is never too hot as it is warmed to a pleasant 40 deg Celsius. You can vary the pressure of the water jets for either a soothing or stimulating massage.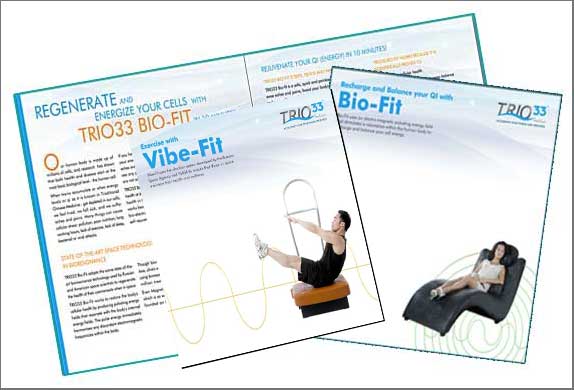 Client: Ad Agency
Project: Brochure Copywriting - health equipment products
The original material was complex, full of medical jargon. Benefits to consumers were not obvious. The ability to grasp the essence of the product and convey it clearly is an essential brochure writing skill.
Client was very pleased with the three brochures. They commended that the brochures were "very clear and very well-written."
Read extracts from brochure:
Headline: Rejuvenate Your Qi (Energy) In 13 Minutes!

Body: Trio33 Bio-fit is a safe, quick and painless way to relieve fatigue, ease aches and pains, boost your body's natural immunity, and reduce swelling and inflammation of joints. Simply place the Trio33 Bio-Fit applicator mat on a sofa or any flat surface. Let your body rest on it for 13 minutes. Feel the warmth and tingling sensations as your body slowly recharges and rejuvenates.
Need an experienced copywriter for your brochure copywriting?
Contact me here



Brochure Copywriting - health supplements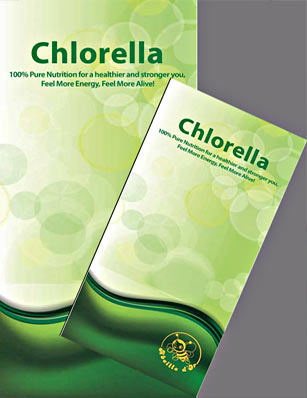 Client: Abeille d'Or Corporation
Project: Brochure Copywriting for health products
The client is a major distributor of chlorella supplements in Singapore and Malaysia. Their previous brochures were high on product features, but low on consumer benefits. The message was not clear nor compelling.

I wrote a new version of their existing brochure, highlighting benefits first. The client felt the new brochure was very well-written.

Read extracts from brochure:
Headline: Defy Ageing Naturally Abeille d'Or C.G.F
Body: You can't stop ageing, but you can slow its onset by making smart supplement choices. Abeille d'Or C.G.F is an all-natural liquid supplement made of C.G.F extract and enriched by honey, glucose, citric acid, spice, and Oligosaccharide syrup. Especially effective for cellular repair, growth and rejuvenation.



Brochure Copywriting - IT products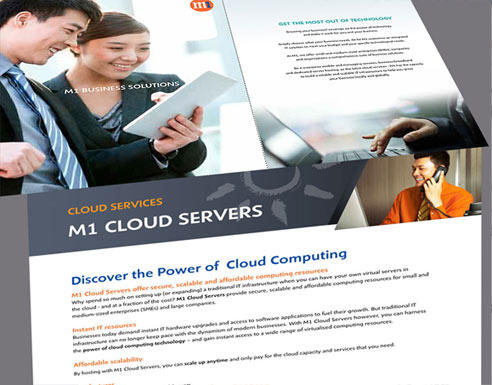 Client: IT company
Project: Brochure writing for M1
M1 is a major telecommunications company in Singapore. The brief: To transform geek-speak to clear, simple writing that is easily understood by consumers. The revised sales brochures are high on benefits and engaging in persuasion.
Headline: Get the Most Out of Technology
Body:

Growing your business? Leverage on the power of technology and make it work for you and your business.
Simply choose what your business needs.

Or let M1 tailor customise an integrated IT solution to meet your budget and your specific needs.
At M1, we offer companies, corporations and organisations a comprehensive suite of business solutions.


Need help in brochure copywriting?
Emal project details and request for quote.


Website Copywriting | Article Writing | Company Profile | Home
Teresa Cheong - Singapore Copywriter, Business Writer and Web Writer for all your business writing needs